After the drama at the beginning of the year with Russia'energy empire Gasprom shutting off natural gas to Ukraine over money disputes between Gazprom and Ukraine's gas company Naftogaz Ukrainy, there had been no more significant crises. The conflict in January left much of Europe pretty chilly for two weeks because pipe pressures dropped so greatly that several countries were receiving less than half if any of their gas supply. The issue is that many of the countries in Europe that receive the majority of their gas from Russia depend on the pipelines that run through Ukraine. So when supplies dropped, Gazprom pointed its fingers at Naftogaz and vice-versa. The dispute was finally settled with a deal and the gas came back on [1,2,3].

Map of Europe's pipelines: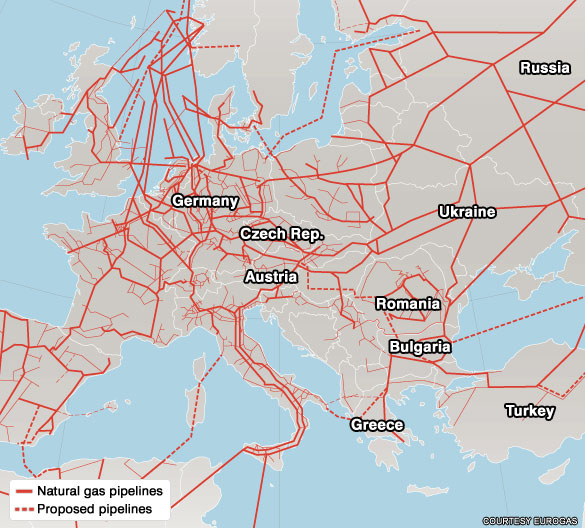 However, there are now new issues with the deal. This past Wednesday, Ukraine's Security Service, backed by President Viktor Yushchenko, raided Naftogaz looking for documents relating to the deal with Russia from a few months prior. They opened a criminal case this past Monday concerning misappropriated transit gas worth over $880 million by some Naftogaz officers[4]. Apparently, they were trying to disrupt the deal between Ukraine's Prime Minister (political enemy of Ukraine's President...hmmm) Yulia Tymoshenko and Gazprom. The day after the raid of Naftogaz, Putin gave Ukraine an ultimatum, saying that Russia would shut off the pipes to not only Ukraine, but the rest of Europe if they didn't pay for its gas deliveries within the next two days. Needless to say, Naftogaz had paid in full ($50 million) by the end of the day. Putin publicly announced his concern about "Ukraine's abilities to be a partner and a contributor to energy solutions."[5]

It would be very scary to think that the countries responsible for providing and allowing for transportation of the fuel used to heat your home were not getting along so great. This isn't just an issue between Gazprom and Naftogaz or Russia and Ukraine, but for Europe as a whole.